Compare Sparta Prague vs Plzeň
Compare before 08.07.2010 (Pro)
En
2010 CZECH SUPER CUP - Prague (Czech Republic)

1:0 (0:0)

77' Libor SIONKO

RED CARDS : Tomáš Řepka (28') -- František Rajtoral (87')

YELLOW CARDS : František Rajtoral (76'), Pavel Horváth (84') - both Plzeň

AC SPARTA PRAHA :
Jaromír Blažek - Jiří Kladrubský, Erich Brabec, Tomáš Řepka, Manuel Pamić - Libor Sionko, Kamil Vacek (Lukáš Hejda 46'), Niklas Hoheneder, Marek Matějovský, Igor Žofčák (Václav Kadlec 90'), Leonard Kweuke (Miloš Lačný 81')
Head coach : Jozef CHOVANEC

FC VIKTORIA PLZEŇ :
Lukáš Krbeček - František Rajtoral, Jakub Navrátil, František Ševinský, David Limberský - Milan Petržela, Pavel Horváth, Tomáš Rada (Petr Jiráček 82'), Daniel Kolář (Dmitri Tatanashvili 67') - Marek Bakoš (David Vaněček 89'), Jan Rezek
Head coach : Pavel VRBA

It was 1st Czech Super Cup match in new history of Czech football since 1993. Away coach was very dissapointed, his team did not create single good chance to score. Sparta played 60 minutes with 10 mens, but it was enough to beat today's opponent. Managers from latvian team Liepaja got nothing interesting and helpful before upcoming qualification round in Champions League. Sparta was missing Kucka (he played at World Cup for Slovakia team) and Kusnir (injury).

Referees : Libor Kovařík - Kordula, Večeřa
Attendance : 3,401
Teams : Sparta Prague (champion) and Plzen (Czech Cup winner).

Soccer transfers & rumours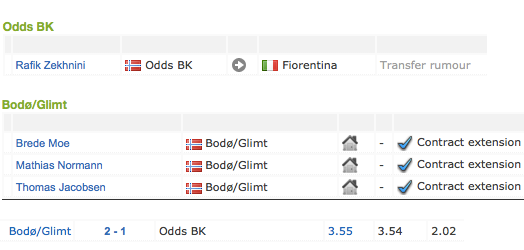 AnnaBet.com offers official lineups and expected lineups, injuries, suspensions and we now add transfer news & rumours to about 20 leagues. You will also see contract extensions and player loans and rumours. The latest news are at their own page under Soccerstats menu that says Transfer News.

From our league pages you will see Transfer News on their own tab.

This data is also integrated to our superb head-to-head statistics so you will see all the transfer news for both teams when comparing them.

New players and contract extensions can boost team's performance and on the other hand if player is rumoured to be moving to a new team he might not give the best effort if already planning of moving to the new team.



Read more